WHY BUY HERE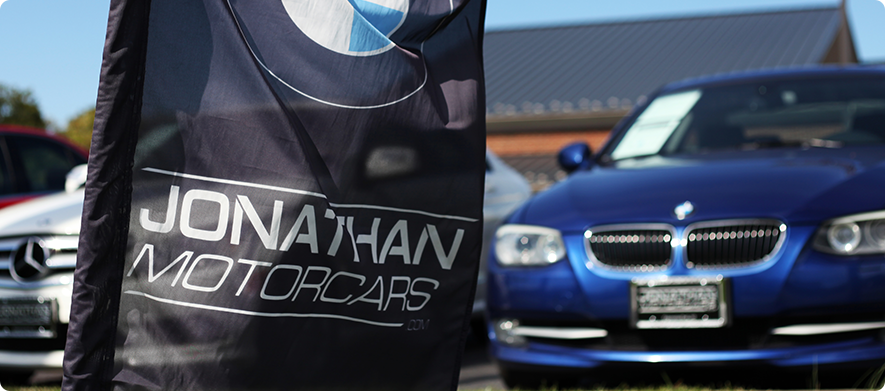 Promises. They are as abundant among Car Dealers as the automobiles decorating their inventories. But like so many cars in this industry, these promises are often abused, worn-out, and rarely stand up under close scrutiny. That is the unfortunate reality of car buying today, and what gets lost in this haze of dishonesty is a customer's ability to find the perfect deal.

Jonathan Motorcars has spent the past 20 years reestablishing this broken trust between dealer and consumer, and we have done it not with promises but a process. This process starts with finding the perfect car, and understanding that perfection means more than just price. Each car is an individual, it has its own history and use that yields a very different product by the time it hits showroom floors. The team here at Jonathan Motorcars is sensitive to this fact, and we have crafted a buying process that guarantees our customers the highest quality products available.

Our methods are unique when set against the modern fast-food style of other car dealers. We go to great lengths to ensure that our inventory is flawless, and that each and every car has been scrutinized prior to sale. This begins by sifting through 15,000 cars each week. From laptop screens to auction lanes, every piece of our potential inventory is heavily inspected. VINs are scanned, repair orders and history reports are researched, paint thickness is measured, and scratches, tears, and smells are noted. The attention to detail our buying team puts into finding our cars would make even a Major League scout blush. In short, only the cream of the crop makes our team.

And there is no prejudice to our process. Whether the vehicle is $5,000 or $500,000, the time and energy our team spends on each car and truck is the same. We make sure of this because our mission is to provide every budget, every interest, and most importantly, every customer with a vehicle that exceeds their expectations. We do this with honesty and integrity, because we still believe that those qualities define good business.

People say we are different. Some even say that we are a dinosaur, living in the past. But our unwillingness to change is because we believe in the principles that define our business. We believe in serving the public, not to take advantage of them. We believe that our customers should be able to buy with confidence. And we believe that the perfect deal still exists, it's just waiting to be found. Abiding by these beliefs is our promise to you, the customer. And after 22 years of business, we have never broken that promise.